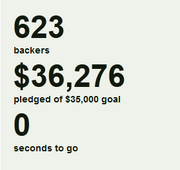 The Telethon of Doom, also dubbed "The Telethon of Disaster" by DnB, was a 24 hour web stream event that occured from December 12-13, 2012, and marked the end of the Duane and BrandO Tour of Devastation Kickstarter. During the Telethon, DnB hosted live Q&A, performances, music, video games, promotional videos by friends, fans, and other artists, and had special guest appearances via phonecall. The band exceeded their kickstarter goal during the final hour of the event, which was considered a success.
The Telethon
Edit
The Telethon itself began with a series of technical difficulties early on that led the team to begin calling it "The Telethon of Disaster." The team consisted of Duane Zuwala, Brandon Lackey, Amber Thompson, and Stefany Messinger (from MPFM), though only the first three were awake and active for all 24 hours. The band held many live performances, beginning with "Tetris" in the early hours of December 13th. DnB later performed some of their most popular songs, such as "Megaman II" and "Ninja Gaiden" to much acclaim.
During lulls in the Telethon, the band held protracted Q&A sessions to avoid silences. Telethon viewers would ask questions about the band, solo projects, personal preferences, and random subjects in a special chat room where Amber Thompson would copy them onto notecards and hand them to BrandO to answer.
Early on the morning of the 13th, Funymony appeared in the stream chat and said that he could make the band a cartoon in an hour. Though doubtful, DnB agreed to the proposal and Funymony recorded their lines through the stream audio. True to his word, the cartoon was ready in an hour and can be found here.
Special guest videos from many talented people throughout the web, such as Professor Shyguy, were streamed every few hours and are archived on the Telethon Archive page of DnB's website.
External Links
Edit
Ad blocker interference detected!
Wikia is a free-to-use site that makes money from advertising. We have a modified experience for viewers using ad blockers

Wikia is not accessible if you've made further modifications. Remove the custom ad blocker rule(s) and the page will load as expected.